WHO IS IT FOR? C-SUITE TO FUTURE LEADERS
CLIMATE RISK MASTERCLASS
It's no longer just about "what business is doing to the climate." It's also about "what the climate is doing to business." 
A CPD certified 2 hour masterclass to upskill all senior leaders within the business. Delivered by our Climate Finance & Risk experts, this face-to-face session delivers an invaluable opportunities for your leaders to increase their knowledge of how climate change is emerging as a major corporate and financial risk to performance, not just an ESG or CSR issue for companies to manage their impact on climate.
Meet your coach
Hosted by our Climate Risk & Biodiversity Coach, Sara Rochat.
Sara Rochat is a a multi-lingual, certified sustainable investment and finance professional (CSIF) who, for the last 5 years, has been creating leading international ESG conferences and tailored climate-risk training for the financial sector. She is passionate about enacting meaningful change to tackle the climate crisis, and has previous experience in international diplomacy and advisory roles in Singapore and Japan.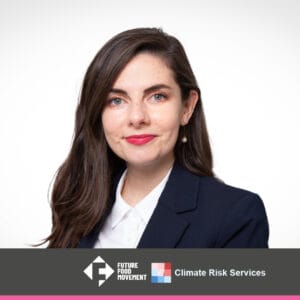 £3500 per Masterclass – Group bookings of up to 30 people