Changing our global food system is one of the most impactful things we can do to address climate change, create healthy lives, and rebuild biodiversity. Consumer eating habits will play a vital role in this transformation.
But driving behaviour change is notoriously difficult. Consumer engagement on sustainability issues is roadblocked by a lack of trust and a complex, confusing landscape, meaning that food consumption habits are nowhere near where they need to be in the face of the climate and nature emergency.
So, what are the secrets of effectively engaging consumers on a planet friendly diet? How can we address the barriers to change? And what role can those of us in the food industry play to transform attitudes, win hearts and minds, and drive change for a future-fit global food system?
Climate Week NYC is one of the biggest climate moments and we were delighted to be part of it, bringing together the most influential leaders in climate action. The planet is on fire, the way we produce food is one of the causes of this and it is incredibly vital that food has a central role to play in global climate moments.
This Future Food Movement panel brought together voices from across the industry in Climate Week NYC to give a fresh perspective on this challenge. Our panel, hosted by FFM's Business Transformation Coach Mike Barry, included: 
Carolyn Ball, Director of Net Zero, Compass Food Group UK & I
Patrick Coveney, Group CEO, SSP Food Travel Experts
Peter Harrison, Chief Commercial Officer, Quorn Foods
James Waddy, Category Director Dairy, Bakery & Local, Tesco
Charles Banks, Co-Founder, thefoodpeople
Carl Olivier, Co-Founder, Sustained
Eve Turow-Paul, Founder and Executive Director, Food for Climate League
David Moore, Group Head of ESG, The Compleat Food Group.
Click play on the video above to watch this thought-provoking session and please share with us your thoughts and opinions after watching.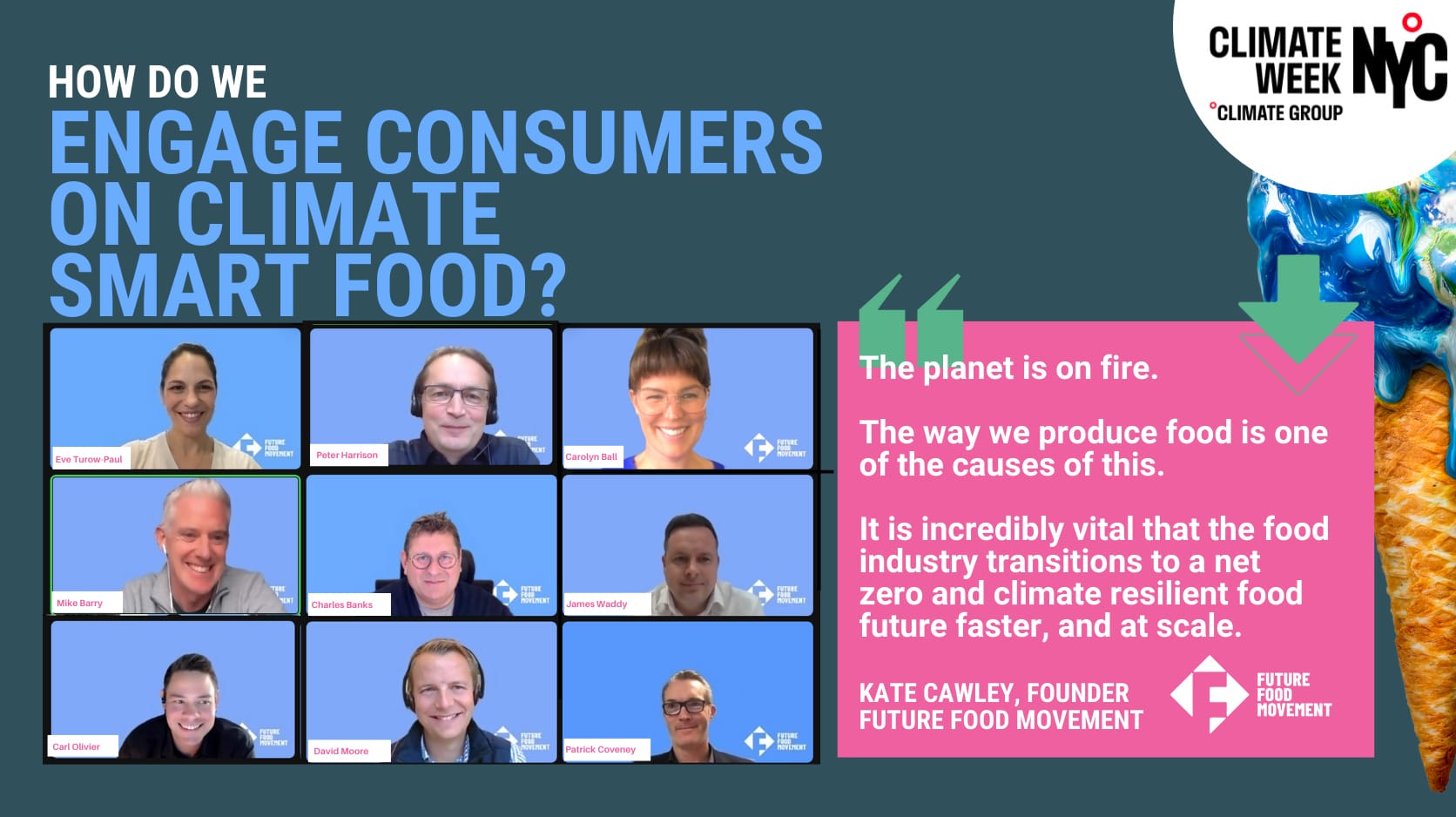 THE KEY TAKE OUTS & RECOMMENDATIONS
1. BE BRAVE
We don't need to start from scratch to bring consumers along on the sustainable food journey – it's  about making what we already do better. But doing this effectively will mean engaging with an uncomfortable landscape, and potentially exposing roots that aren't commercially advantageous in the short term.
Food companies need to be brave and prepared to take risks, keeping in mind that risks taken now will mitigate greater climate-related threats in the future.
What can you do? By shouldering this responsibility together through cross-industry partnerships and collaboration, we can get to where we need to be much faster.
I think we all agree that we need a real revolution and transformation in the truest sense. And through the whole of history, this has never been achieved by fighting existing realities; you achieve change by creating a new one that makes the old one obsolete.
We are looking down the barrel of a world where at some point there will have to be mandated action here, and so our ability to reduce emissions will absolutely tally with the future that we're in.
2. TAP INTO VORACIOUS CURIOUSITY
The appetite for climate smart food is there. Consumers are interested in sustainable diets and they want to make good choices, but there are obstacles that exacerbate an overall intention-behaviour gap. Things such as perceived cost, uncertainty around the preparation of alternative food choices and confusion over what constitutes a sustainable diet undermine consumer confidence and willingness to act on that curiosity.
Addressing these barriers will help to create a frictionless environment in which consumers can explore products they might not usually buy.
What can you do? Underpinning this is the need to upskill workers throughout the food industry, so they are equipped with the climate basics and sustainability mindset that can tackle these obstacles.
Ultimately, we need teams of people - those chefs, technologists, developers, marketers and purchasing managers - to be upskilled, qualified and experienced to apply that climate impact lens to their role so that we can channel future innovation in product processes, in sourcing, and so on to be climate positive.
3. Put a climate lens on food design to make choices more sustainable by default
Most of the carbon emitted by the food industry comes from ingredients, so significant sustainability achievements can be made in product composition and formulation – long before the consumer is involved. By taking action to ensure supply chains are sustainable, manufacturing processes are efficient and product development is driven by sustainable ingredients, we can make consumer's go-to choices more sustainable by default, without having to reshape behaviours or ask them to take action.
However, we need to take a whole picture, holistic approach to ingredient changes. Carbon is often the main consideration in a product's sustainability credentials, but we must also take land, water, waste, biodiversity and human rights into account to avoid unintended consequences of focusing too much on any given sustainability metric. As such, supply chain transparency and traceability is vital.
What can you do? Start to profile your products to get a base line understanding, identify your gaps and develop holistic, trackable strategies that demonstrate your progress.
An eco label is the underlying framework for assessing impact, which is a translation of data in a way that can be consumed en masse, trusted and then used everyday to help inform choice.
Even if we only translate carbon initially, we have to start with the underlying mechanic for: is this good or bad? And if we go a step deeper, how is it good? On water, land, pollution, biodiversity. That's where these things need to interact together, and there's a translation layer that will evolve over time.
4. MEET PEOPLE WHERE THEY ARE
For most people, food represents comfort, joy, togetherness and celebration. As one panel member noted, "they don't want to think about the apocalypse while they're eating". The narrative around climate smart food needs to be positive and focus on choice and abundance, rather than restriction and sacrifice.
What can you do? Climate smart options need to taste good and perform in the way that consumers expect (it's only recently that oat milk, for example, has become a viable alternative to cow's milk in terms of how it performs in coffee and cereal, and now its popularity is increasing), while existing diets and preferences must be respected.
It is important to create a movement that allows space for meat –  it's less and better using responsibly sourced meat. We don't want to make everyone think that they have to be forced to be vegan. It's about expanding our diets. It's not about taking things away.
Really focus in on your audience. Figure out their needs and their values. Meet people where they are, and build on current trends. We don't have to rebuild culture -it's already there.
It's about expanding our diets, it's not about taking things away. There are two hundred thousand to three hundred thousand edible plant species in the world and these are just out there waiting for us, waiting for people to learn how to cultivate, embrace, cook, eat and celebrate them.
5. ECO-LABELLING IS NOT JUST ABOUT CONSUMERS
The conversation around eco-labelling is continuing apace, and while our panel was divided over the impact this tool might have on consumer behaviour, all agreed that it will play an integral role in driving food companies to do better. "Nobody wants to be making products that are covered in red traffic light symbols," one participant noted. Eco-labelling will challenge companies to continually improve their formulations and provide a yardstick for comparison with other brands. As major retailers ramp up their sustainability operations, they will use eco-labelling to decide which products to stock, which will in turn push food companies to be more sustainable.
Eco labelling sets a target for you internally as a business, by each product, by each foodservice meal, by each retail box.
You can see where you're at, and you can then challenge yourself to make a difference. I like that we are forcing ourselves to really get into the detail of the impact of the ingredients and processes that we use and are then able to be transparent with our shoppers and customers.
In terms of consumer perspectives on eco-labelling, the industry needs to minimise potential confusion by working together to agree on a cohesive, harmonised system labelling system. However, we should also explore other tools to communicate sustainability information to shoppers. COVID-19 saw an influx of digitalisation, such dedicated apps, QR code menus and digital kiosk ordering points. There is huge potential to include sustainability information in these mechanisms, as well as on product packaging, particularly for those online shoppers who don't shop at the instore shelf.
What can you do? Reach out to the  Future Food Movement for guidance on current data providers, tech and eco labelling frameworks. Whilst the industry needs a broad set of standards, we cannot afford to wait for this regulation to be put in place.
Setting the bar in the supply base and raising standards will help drive positive change but it is very difficult to change consumer demand overnight - products must perform the role customers expect.
Too often in the sustainability space, we're developing products for sustainability, as opposed to developing products for customers that happen to be more sustainable.
6. BUILD ON EXISTING FOOD CULTURES
Discussions around sustainable food often lack diversity. 'Climate-smart' diets that are built on local, in-season produce and minimal meat consumption have long been the cultural norm in many places around the world – in these areas, the sustainability credentials of food is simply incidental. As such, our conversations about sustainable food often exist in an echo-chamber filled with western voices and viewpoints.
Meat takes centre stage, but we can also show people that plant-based eating can be delicious, satiating and easy to prepare. In terms of behavior change that's huge.
Plant-based 'meat' and meat-free 'dupes' are not a panacea to consumer behaviour change although they can offer a lower carbon option in everyday regular meal habits. We can learn important lessons from other cultures, and encourage consumers to explore, celebrate and enjoy new foods without meat as the focus.
What can you do? Approach climate smart food principles with an abundance mindset – what diverse, interesting foods can we add to the plate, how can we educate and inspire people to try them and bring in diversity of thought in projects, initiatives and programmes.
Consumers don't know where to go, they don't know where to look, and it's difficult to make that choice. In foodservice the choice can be edited, when you go into a supermarket that has 14,000 products, the consumers are looking at the labelling, they are looking for a direction.
Let's focus on putting food in front of consumers that when they purchase it they know that in the background we've done the right thing.
7. PUSH FOR REGULATORY CHANGE
Consumer education won't work on its own and needs to go hand-in-hand with business initiatives and government regulation. The industry's successes around removing salt and sugar, and increased awareness of calories, demonstrates what is possible when "morals, markets and mouths meet".
What can you do? First-mover anxiety is a significant impediment to progress, so regulatory change will act as guard rails for the whole food industry. However, we need to take the lead on this. Instead of waiting for regulation to happen, everyone in our industry must work together to demonstrate strong thought leadership and an appetite for collaboration, which will encourage catalysing regulation to follow.
We either choose to, or are forced to make sustainable changes through regulation, and make a series of interventions that ultimately consumers will then accept or live with. In the past we have been extraordinarily creative and efficient when faced with these challenges.
I think the food industry in the UK has a history of being able to lead on regulation together and provide the kind of thought leadership on where to go.
————————————————————————————————————————————————————————
Let's keep the momentum going, we know our panellists are keen to – if you would be interested in joining further discussions with this group, please email us.
IS YOUR BUSINESS A CORPORATE MEMBER?
Future Food Movement helps Corporate Members upskill their workforces to learn and develop the skills, knowledge and behaviours needed to become agents of change and support your business in becoming a climate smart food leader. Explore and enquire here.