THE KEY TAKE OUTS
Over 95% of our food originates in the soil – a crucial component of food production and food security. And it plays a major role in the climate: the world's soils contain 1,500 billion tonnes of carbon in the form of organic material, making soil one of the planet's largest carbon sinks. Yet, we are losing this finite resource at a rate of three million tonnes per year in the UK alone because of intensive agriculture, deforestation, soil cultivations, heavy machinery and chemical inputs.
The solution? A regenerative food system that puts nature and soil health first, leading to healthier foods for consumers, a more secure future for farmers and the chance for the planet to heal and restore itself. The hope was that the government response to the National Food Strategy this week, would support and help an already pressured industry to collectively understand a pathway forward and align the farm subsidy system with it. The response was at best tepid, so it is up to businesses to move forward together.
In this Future Food Movement thought leadership session, Mike Barry facilitated a powerful conversation between food industry leaders from across the supply chain, including Yeo Valley, The Compleat Food Group, ReFi Ventures, Wildfarmed, Tesco and Waitrose, to get under the skin of what needs to happen to scale a regenerative food system. 
Click play on the video above to watch this thought-provoking session and please share with us your thoughts and opinions after watching.


A shift in mindset
One of the strongest takeaways is that shifting to a restorative and regenerative system requires a whole mindset approach. From the farming community who are nervous about change and security, to manufacturers and processors in the way they source and design products, to retail and brands in how categories are developed to influencing consumer choice and communication.
This is not just about producing food that has a positive effect on the environment; it also has a significant social impact benefitting rural communities, human health and animal welfare – this is a holistic approach with energy and excitement (the ag tech and innovation, for one!), which might often feel too overwhelming, but in fact everyone in the industry can get behind the scale up of this approach regardless of how close they are to the farm level.
How can we help scale up regenerative food approaches?
1 Think differently
LEAF is a great starting block and pathway for farmers on their regen transition, and can be a useful tool when reviewing sourcing strategies. Collaborate with farm suppliers on this journey – it is critical to understand this is long term and your supply chain needs your support. However, the message was loud and clear that regen is not a box ticking exercise – we need to embrace the interconnectivity. Regen is powerful because it doesn't put things into neat little boxes. Make this the direction of travel for your business.
Farming is an industry used to order and standards. Delivering an output without this can scare farmers, so we need to find ways to balance regenerative agriculture's holistic approach with scalable approaches.
2 Get on with it
We don't have time to wait for perfection. The advice from the panel was to start having these conversations, upskill your teams and instigate culture change within your business. It's always harder to upgrade and improve existing products than to dream up new ones, so regenerative agriculture needs to be built into manufacturing processes from the very beginning. Retailers are looking for suppliers to bring innovation to the shelves, which might not always translate to consumer communications but can shift big change in the background.
Alliance and collaboration are critical. Here as panellists, we have the expertise and powers to break down some of those blockers. We can de-risk it by sharing the risk. We need openness to work together.
3 Collaborate and share with an abundance mindset
Open innovation is important, as we can achieve so much more than working in our silos. By avoiding repeating the same trials we can share our knowledge which is a powerful tool for the industry.
What can you do? There's an opportunity for leaders to be innovative about business models, for example community shared ownerships which brands have the capability to employ.
YOU CAN'T FAKE FUNCTIONING BIODIVERSITY. THE KNOWLEDGE IS IMPORTANT. WE HAVE 42 GROWERS IN OUR COMMUNITY WITH MORE THAN 1,000 YEARS OF COMBINED EXPERIENCE. THE KNOWLEDGE-SHARING THAT GOES ON BETWEEN THESE GROUPS, IT'S AMAZING. DO WE WANT TO OWN THAT KNOWLEDGE? ABSOLUTELY NOT. THIS GOES BACK TO THE MINDSET SHIFT WE NEED – WE NEED A NEW APPROACH TO EVERYTHING.
4 Be bold, be innovative – don't wait to be asked
Being bolder and pushing boundaries can open up opportunities. System change doesn't mean maintaining the status quo for stakeholders but the system we're trying to create needs to have an answer for every set of stakeholders.
For suppliers, there are two angles to support retailers: firstly, shifting demand in the customer base through 'this product is better for you because of…'. So, the question is, can a supplier help retailers achieve this and help customers shop differently? Secondly, can we change the supply chain and not talk to the consumer at all? Tesco has done this with health. Food-to-Go sausages now contain 30% lentils – there's no need for the consumer to know. So sometimes a supplier will come up with a solution for a better product that means no conversation is needed with customer.
Wildfarmed are working on a new initiative called The Pledge. It's a work in progress. Right now, they're looking at supply chains and flour and are asking, 'How much of your supply chain are you willing to move by 2023, 2024, 2025? We're not just making demands; we're asking what's realistic?".
What can you do? Think outside the box, connect dots that previously were not connected and use your biggest brains to rethink how food is being produced. Don't be afraid to reach out up and down your supply chain to collaborate and share risk.
WE'RE GOOD AT DOING SOMETHING WHEN WE'VE DECIDED WHAT WE'RE GOING TO DO. ONCE THINGS ARE BAKED IN. BIG CORPORATE ENTITIES DO HAVE VALUE TO ADD, BUT THEY MUST BE CALIBRATED TO TARGET THE RIGHT OUTCOMES. IT'S A DIFFICULT PUZZLE TO UNPICK BUT I HAVE A LEVEL OF OPTIMISM.
5 Get consumers excited about change
If you looked at the current food system and judged it anew, you'd get a pretty damning picture. We do need to get consumers interested in the way of doing something new, but people do revert to behaviour and habit. People want to be part of the change, but changing behaviour is hard. And food is hard. It's a low-importance, high-frequency consideration. At the shelf edge, consumers don't have the energy to assimilate complicated messages, so we have to have the conversation in a different forum. And then we have to make it an easy choice with no compromise.
What can you do? Stay abreast on eco-labelling, packaging and be innovative with consumer engagement strategies. These will be key in building regen momentum with consumers, as we see with Yeo Valley and Wildfarmed. From a personal perspective, follow thought leaders in this space and share knowledge to bring more people into this way of thinking.
WHAT WE EAT IS HIGHLY SENSITIVE, YET WE DON'T THINK TOO HARD ABOUT IT. OPTIMISTICALLY, THE ORGANIC SECTOR GREW QUITE MATERIALLY DURING COVID. WHY? PERHAPS BECAUSE PEOPLE HAD TIME TO REFLECT ON THINGS AND THINK ABOUT THEIR HEALTH. I THINK THAT THE YOUNGER GENERATION WILL BE KEY IN DRIVING CHANGE, BUT I DON'T KNOW IF WE HAVE THAT LONG.
6 Use datasets and tech to scale things up
We can infer things from statistical analysis to instil confidence, and we can amalgamate lots of different indicators to infer progress – geospatial stations, microbiology models. We don't have to worry about getting too-detailed data. Paying farmers for their data could be an exciting business model. People want that information and farmers already have it.
What can you do? Investigate available tech to support sourcing strategies and improve data availability to make informed choices and redirect capital 
7 Give consumers the choice
We have to be really mindful that as the cost-of-living rises, people are thinking about some food, not what food. That shouldn't stop us making food that is delicious, good for us and the planet, and there is an opportunity to do good through what you eat. If we give people who are fortunate enough to be able to make a difference through food the opportunity to do so, then you've got a needs state.
What can you do? Understand what it is about regenerative food that makes your consumers tick and bake in regen approaches into product development.
IT'S IMPORTANT TO MAKE SURE WE LINK TO THINGS THAT PEOPLE ARE CONNECTED TO. WE HAVE TO LEARN WHAT CUSTOMERS WANT FROM US, AND WHAT THEY NEED AND UNDERSTAND. WE HAVE A GREAT OPPORTUNITY TO RECONNECT CUSTOMERS TO THEIR FOOD AND WHERE IT COMES FROM. OPEN FARM SUNDAY IS A GREAT EXAMPLE OF THIS.
8 Support natural capital investment
There is a viable business case for regenerative food as system change always creates opportunity. The positive tailwinds are numerous in terms of environment and personal health and wellbeing. Investors are always looking for quick ways to back the right horse, so we need to demonstrate that regenerative agriculture is moving in the right direction – a standard and 'ways of measuring' would be welcomed by investors to instil trust that regen practices are being applied. The industry needs to be aware that supply chains are only as strong as their weakest link, so we need to find systems to put cash and capital back into farming.
What can you do? Corporates could invest capital into innovative agtech companies to fund natural capital projects which will not only support the transition to regenerative food but enable supply chains to inset emissions and build climate resilience.
I KNOW THE INVESTMENT COMMUNITY HAS ALWAYS WANTED SOMETHING LIKE THIS – THE E OF THE ESG. AGRICULTURE IS THE ONLY AREA WHERE WE CAN REGENERATE NATURE. AND WE CAN MEASURE THAT AND CAN ARTICULATE THAT BACK TO STAKEHOLDERS. I SEE IT AS SOMETHING THAT ADDS MORE VALUE THAN IT EXTRACTS, UNLIKE ALMOST EVERY OTHER SECTOR. I DON'T THINK THERE'S A BETTER INDUSTRY TO BE INVOLVED IN.
Vote with your wallet
We are all consumers ourselves and have consumer power on our side. Once you understand more about regen food, it changes how you view what you eat.
What can you do? Support the growing number of regen brands and business who are already on the regen journey. Some recommendations from the panel:
10 Don't wait for legislation and policy change
The power of a policy and standard gives everyone something to target, and it's a message that consumers can get, such as MSC being seen as "good". Getting consumers to recognise a standard, which they don't need to know about in detail – they just need to associate it with 'good', like free-range eggs.
What can you do? Don't hide behind the lack of policy, acknowledge what we can do to alleviate this barrier. Look at how we can collaborate, lobby and advocate for a policy landscape that rewards ambitious climate action.
Some final words from our panel: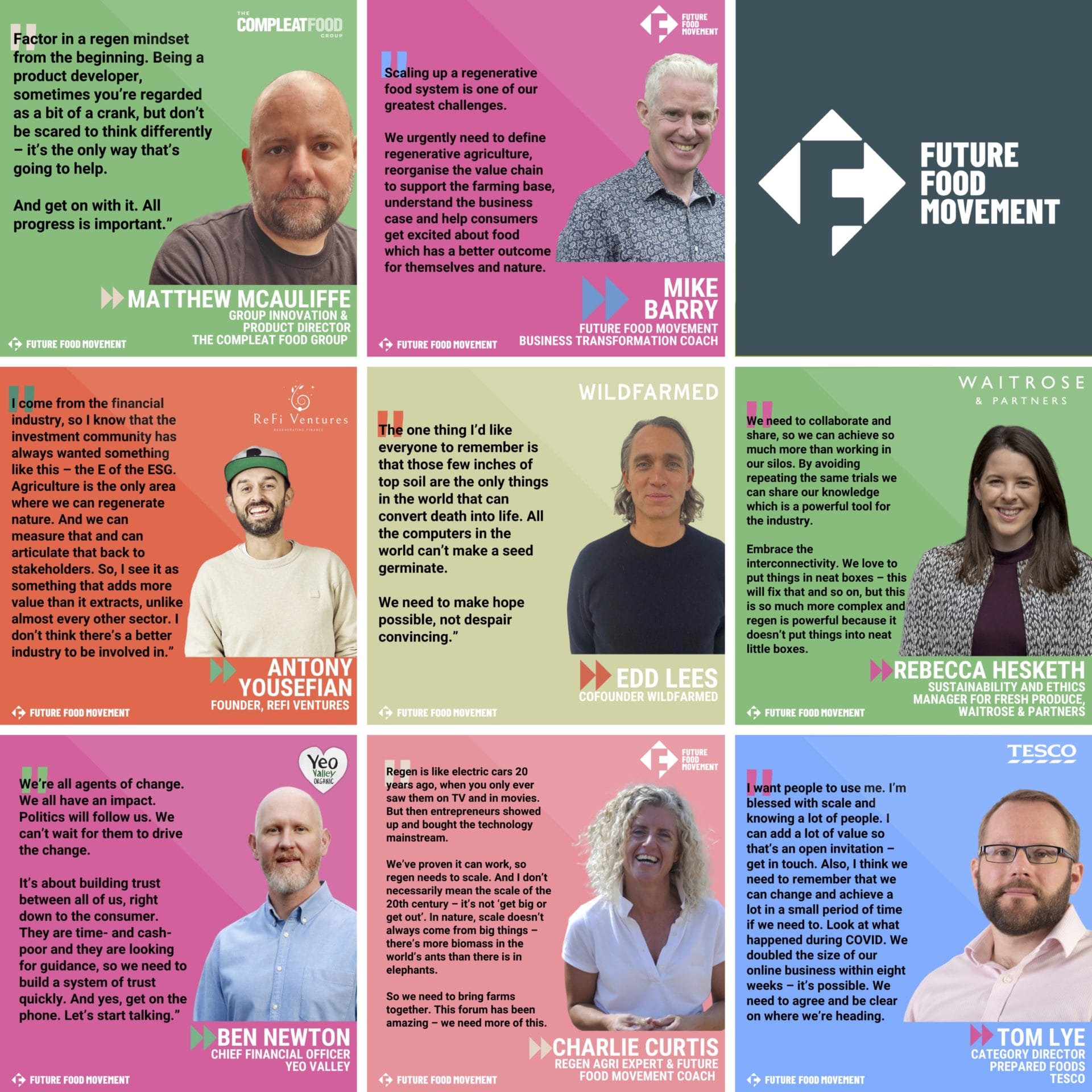 WHAT'S NEXT?
We need to continue this important conversation and amplify the movement – we always say once you know, you can't unknow and we need more people to know about the power of regen.
We are hosting a special edition Regenerative Agriculture Masterclass. Please join us, and invite your colleagues and networks – we need to keep this important conversation going.
This is an open access masterclass which will cost £50pp for non-members and £15pp for Ally Community Members (join the Movement here).